Shingu City, Wakayama is a popular tourist destination as a spiritual sacred place including the Kumano Kodo. But did you know that there are also many other attractive places to go to satisfy your taste buds and to move your body?
Originally, the city was called the "town of consumption", because it was established by wealthy merchants who built a fortune by selling lumber. So, local residents are still particular about food. There are the ruins of Shingu Castle, where there once existed Japan's shortest railway built only for the purpose of transporting people to a luxury hotel for wealthy men. People in the city also used to have the tuna freshly caught in Kii Katsuura delivered to them to eat. While the railroad later became a disused line, local residents still have a discerning palate.
At "Katsuura Gyoko Nigiwai Market" located near Shingu City, a tuna fileting event is held every weekend and you can eat delicious tuna until you are stuffed.
Here, an almost 30-year-old travel writer introduces to you how to enjoy the food and activities in Shingu City and its surrounding area.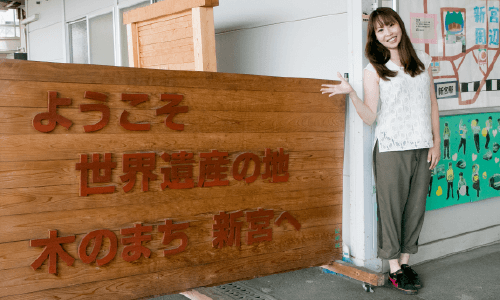 At Shingu Station, a wooden welcome board greets you. I am so excited!
Table of Contents
1 Rent a bike at Shingu City Tourist Information Center
Renting a bike is the best idea for sightseeing in Shingu City. Shingu City itself is small enough for everything to be reached out on foot. So, renting a bike is the best choice.
You can rent a bike at "Shingu City Tourist Association Tourist Information Center", which is located ground floor of Kumano Kotsu office, across the train station.
If there is no bike available on the spot, you can rent one at a shop located inside "Jofuku Park", which I will talk about later.
At Shingu City Tourist Information Center, not only can you rent a bike, but also you can get coupons (also available in Chinese and English) that are indispensable to enjoy foods in the city as well as tourist brochures. It is a great place to stop by before you start sightseeing in Shingu.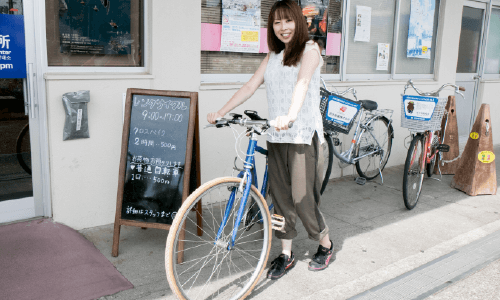 For a bike to rent, I chose a trekking bike that looks comfortable to ride.
2 Start your sightseeing at Jofuku Park!
Jofuku is said to have traveled all over the world searching for medicine for immortality under the order by the Emperor of the Qin Dynasty in China and finally reached Shingu, where he discovered a medicinal plant called "Tendai Uyaku". His tomb is currently set up in Jofuku Park.
At "Jofuku Shop" located inside the park, you can buy "Tendai Uyaku Medicinal Tea" using Tendai Uyaku, a medicinal plant which Jofuku handed down as a "miraculous medicine for immortality".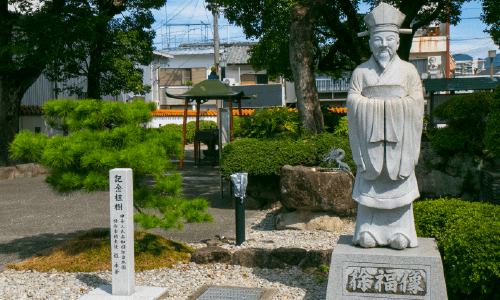 As a starting point for city tourism, Jofuku Park is a good place to start as it is less than 5 minutes on foot from the Shingu Station.
<DATA>
・Jofuku Park
Address: 1-4-24 Jofuku, Shingu-shi, Wakayama
Hours: 7:00-19:00 (From September to April, open until 8:30-17:30)

<DATA>
・Jofuku Shop
Address: 1-4-24 Jofuku, Shingu-shi, Wakayama (inside Jofuku Park)
Phone: 0735-21-7672
Hours: 8:30-18:00 (From September to April, open until 8:30-17:00 )
Bicycle rental: 500 yen per day
3 Jofuku Sushi, where you can eat raw tuna freshly caught in Katsuura and Pacific saury sushi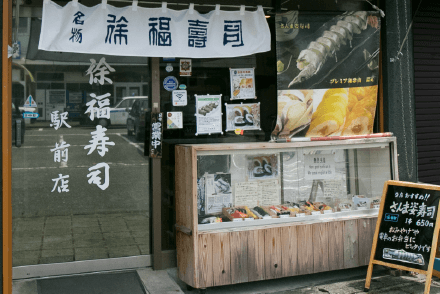 Jofuku Sushi – a gourmet sushi restaurant in the vicinity of Shingu Station which is worth visiting. You can also "take out" sushi and eat it in your return train.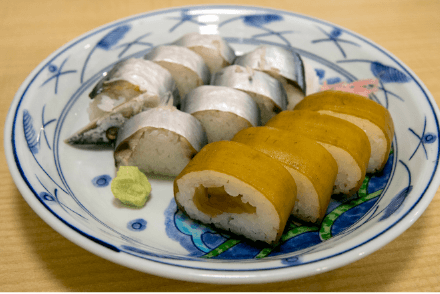 In this trip, I had the restaurant's specialty "Pacific Saury Sugata (whole fish) Sushi" and "Kombu Sushi", both of which are a must-eat.
They salt Pacific saury for 10 days to up to a month and then marinate it in citrus vinegar. This process eliminates its fishy smell. As to the kombu sushi, the sour taste of kombu and sweet taste of kanpyo (dried gourd shavings) makes an exquisite combination!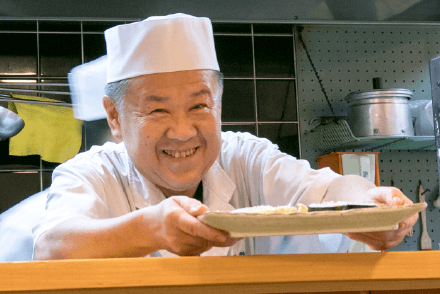 Taisho (sushi chef) entertains you with tasty sushi and his smile.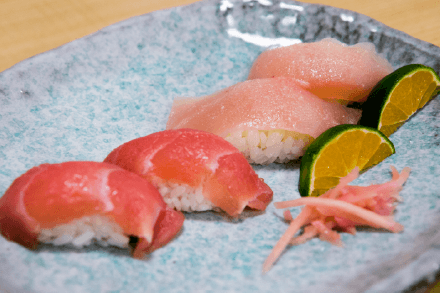 A unique way to eat sushi in Kumano is to squeeze citrus juice over it. During the summer, people use orange vinegar made of small oranges thinned out from trees.
At this sushi restaurant, the chef calls tuna "shibi", the old Japanese word meaning "tuna". Also, sprinkling plenty of locally produced salt and squeeze out some "oranges vinegar" on top of black marlin will harmonize the fat of the fish with the vinegar and bring out the umami of the fish with the salt. You can eat this sushi only in summer. In winter, you can enjoy tuna with the local citrus called "Sanzu".
This is the menu item I want foreign tourists to try, but for those who do not care for fish, they also have "Mehari sushi", the prefecture's specialty wrapped with a lightly-pickled takana mustard leaf, and rolled sushi using Kumano beef. This rolled Kumano beef sushi can be tasted in two different styles: wrapped in nori (dried seaweed) or in kombu (kelp). Taisho told me that the one wrapped in kombu is called "art".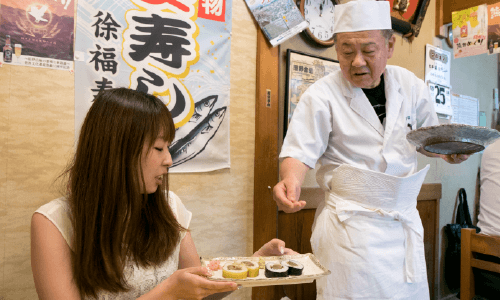 The rolled Kumano beef sushi wrapped in kombu was delicious as it is called "art"!
<DATA>
・Jofuku Sushi Shingu Station Store
Address: 2-1-9 Jofuku Shingu-shi, Wakayama
Phone: 0735-23-1313
Hours: 10: 00 - 17: 00 (closed on Thursdays)

4 Are you a meat person? Then you should eat Kumano Cattle at Yakiniku Hige
Recommended for those who also want to eat meat, Yakiniku Hige is where you can eat fresh Kumano beef.
Actually, this restaurant is the only yakiniku restaurant in Wakayama which is a designated restaurant to serve Kumano beef. It is a very special yakiniku restaurant where you can even eat fresh giblets of the cattle which other restaurants cannot obtain. During lunch hours, you can enjoy the highest quality Wagyu beef at an affordable price.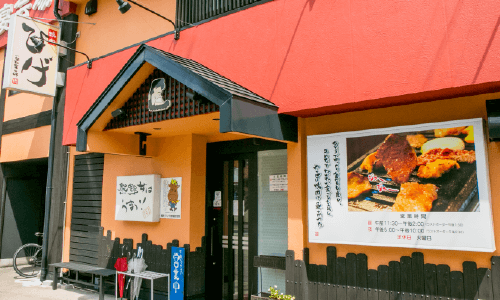 The set comes with 110 grams of fresh Kumano beef rib meet at a cost of 1,500 yen. The rib meat of Kumano beef served at this restaurant is so tender that you would think you are eating special loin. The meat has a perfect amount of fat and is never too fatty. This is probably attained not only by the Kumano beef but also how the chef pretreat the meat before he cooks it.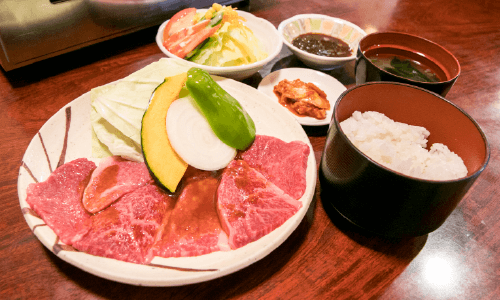 This time, I had "Kumano beef special set meal" for lunch.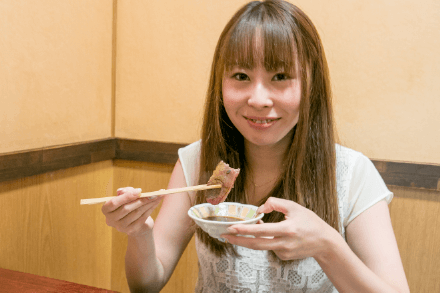 Eating tender and juicy meat makes me happy.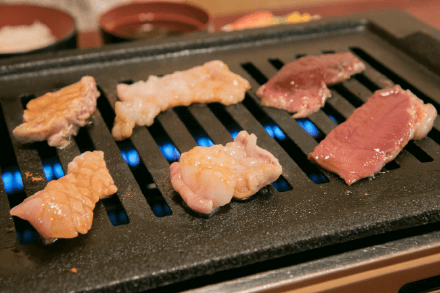 The giblets I additionally ordered had a rich taste and was delicious.
<DATA>
・Yakiniku Hige
Address: 4-3-19 Kamikura Shingu-shi, Wakayama
Phone: 0735-21-3488
Hours: 11: 30 - 14: 00, 17: 00-22: 00 (Closed on Tuesdays)

5 Nakakoriten, a shaved ice shop using pure ice
As their shaved ice is made of ice carefully frozen using pure water, you will not have a brain freeze even when you eat it all at once. Because it is a nationally famous shop, depending on the time of the day, you have to wait in a long line to get their shaved ice. Inside the nostalgic Show-style shop, many different delicious flavors are waiting for you. Since I am in Wakayama, I picked the "Kiyomi orange" flavor (Kiyomi orange is a kind of orange grown in the prefecture).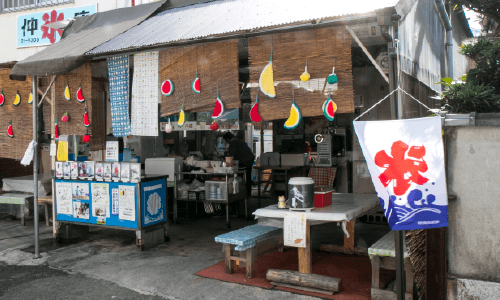 One of the must-eat sweets in Shingu City is the shaved ice at Nakakoriten.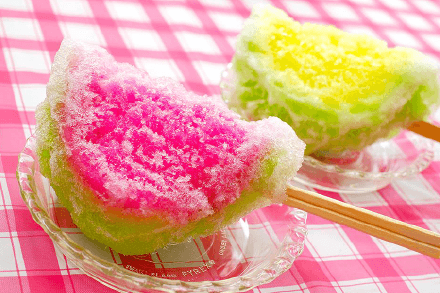 "Watermelon shaved ice" – a popular flavor that is also photogenic.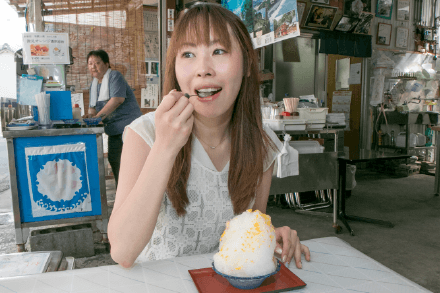 The ice with fluffy texture melts in your mouth as soon as it touches your tongue, bringing out indescribable deliciousness.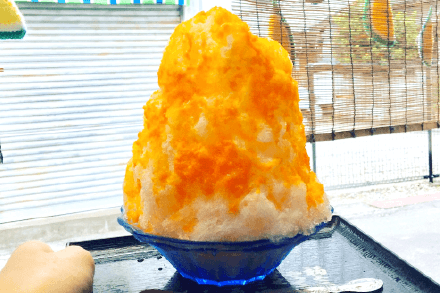 "Unshu Orange" flavor – another popular flavor
<DATA>
・Nakakoriten
Address: 551-12 Shingu Shingu-shi, Wakayama
Phone: 0735-21-5300
Hours: 8:00 - 20:00 (open seven days a week)
6 Smack your lips over the eel at Shikaroku, which Haruo Sato also loved
If you want to indulge yourself with luxury gourmet, why don't you visit Shikaroku, a restaurant specialized in eel dishes with more than 100 years of history?
Shikaroku is an eel restaurant that has been loved by men of letters since its opening. Haruo Sato was also a patron of the restaurant.
Although the restaurant uses the farm-raised eel raised in Mie, they get rid of mud from the eel's body in the live pond using fresh well water inside the premises of the restaurant. In fresh clean water, the eel discharges mud, and this way they can remove the muddy smell from it for a better taste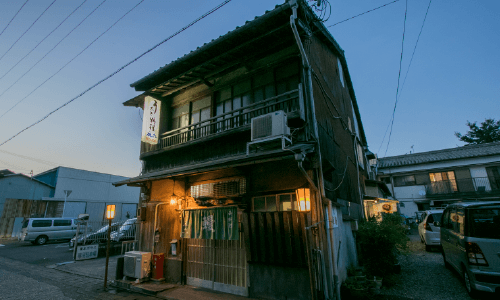 The eel covering the surface of the rice underneath it is crispy on the surface, and tender and fluffy inside. The juicy and sweet taste of the eel spreads in your mouth, bringing a smile to your face.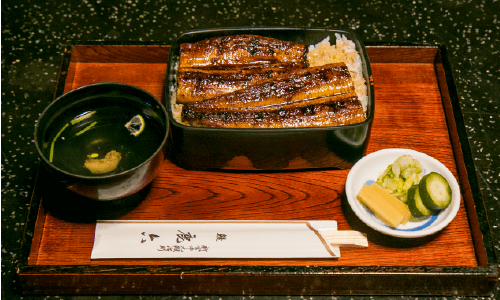 The Unaju (eel served over rice with sauce) I had this time is 5,000 yen.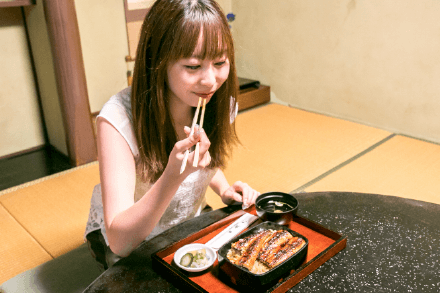 The crispy grilled eel tastes different from the steamed one eaten in Kanto.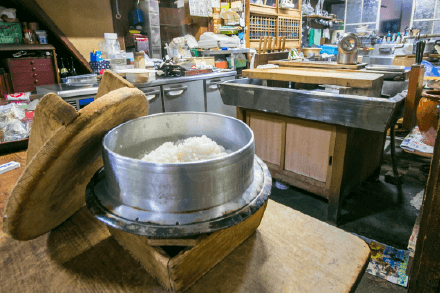 They generously showed me their big rice-cooking pot that has been descended from generation to generation to always serve freshly-cooked rice to customers.
For those who are tight on budget, they also serve Unadon (eel bowl) at 1,400 yen. Enjoy the sophisticated taste of eel which have been loved by great men of letters.
<DATA>
・Shikaroku
Address: 2-3-5 Motokaji-cho, Shingu-shi, Wakayama
Phone: 0735-22-2035
Hours: 11:00 - 15: 00, 17: 00 - 21: 00 (Closed on Mondays)

7 A short trip to Dorokyo, a place best suitable for activities
When your stomach is full, why don't you enjoy yourself at Dorokyo gorge, located near Shingu City for some fun activities? In this gorge with a length of 31 km, you can enjoy the entire gorge in a water jet boat, going down the clear stream of the emerald green river and enjoying the beautiful scenery including oddly-shaped rocks and Boshi-no-taki Falls.
Driving a rental car is the easiest way to get to "Dorokyo Meguri-no Sato Kumanogawa River", the boarding point for the water jet boat tour, but you can also take a bus to get there.
Getting on the boat and having a seat, let your cruise begin. The boat is an open-air boat, so you can feel the fresh air in the gorge as you go down the river. While the boat stops at Tado boarding point for a short break, you will definitely enjoy the 2-hour round trip cruise as if you were dreaming.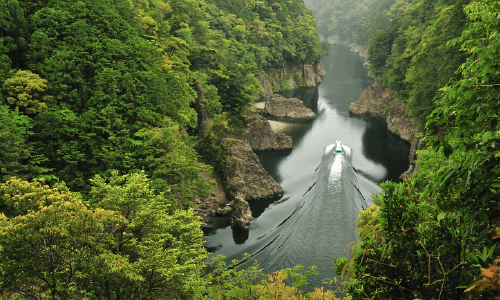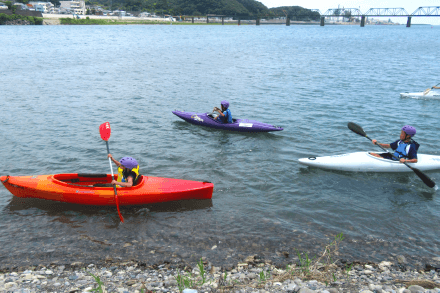 Rental canoes are also available at "Lifelong Learning Division at Shingu City Hall". So, if you have a plenty of time to enjoy Dorokyo, you should consider renting one there.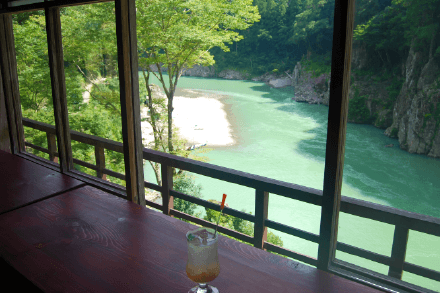 There is also a cafe using the building of Doro Hotel, which is more than 100 years old. You can enjoy the beautiful scenery of Dorokyo over a cup of tea.
<DATA>
・Dorokyo Meguri-no Sato Kumanogawa River
Address: 272 Hitari Kumanogawa-cho Shingu-shi, Wakayama
Phone: 0735-44-0331
Hours: 9:00-17:00 (open seven days a week)
*The last departure time for the water jet boat is 14:30
・Wakayama Pref. Shingu City Lifelong Learning Division
Address: 1-1 Kasuga Shingu-shi Wakayama
Phone: 0735-23-3333

・Doro Hotel
Address: 405 Koushita, Totsukawa-mura, Simoichi Yoshino-gun, Nara
Phone: 0746-69-0003
Hours: Open at 11: 30 until sold out

8 Must-buy souvenirs and foods
After eating and playing, you want to do some shopping in the city. Here are some of the souvenirs I found in my trip that you should check out.
・Yatagarasu-no Tamago (mythical raven's eggs)
I purchased Yatagarasu-no Tamago (mythical raven's eggs) at Okashidokoro Tsukushi. Inside the black egg-shaped shell made with powdered Kishu Bincho charcoal is the soft filling consisting egg yolk sweet bean paste wrapped in white sweet bean paste. The size is perfect for those on the go.
The price is 550 yen for a set of 3 pieces and 160 yen for a piece.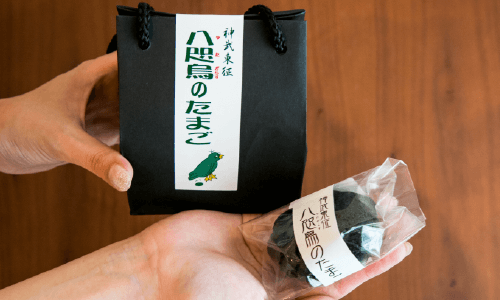 <DATA>
・Okashidokoro Tsukushi
Address: 4-1 Tanioji-cho, Shingu-shi, Wakayama
Phone: 0735-23-2943
Hours: 9:30 - 18:30 (no fixed holiday)
・Suzuyaki (mini sponge cake) and Kumano Meisho Senbei (rice cracker)
Kobaido is one of the best sweets shops in Shingu City. Traditional sweets made with Wasanbon sugar produced in Shikoku have an established reputation among local residents, so the shop is always filled with customers. At this famous shop, I found Suzuyaki, bell-shaped mini sponge cake (325 yen for 20 pcs), and "Kumano Meisho Senbei", rice crackers with pictures of Kumano's famous sights printed on the surface (430 yen for a set of 10 pc).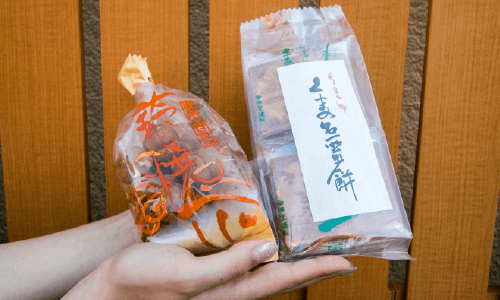 <DATA>
・Kobaido
Address: 3-3-4 Ohashidori, Shingu-shi, Wakayama
Phone: 0735-22-3132
・Dashi pack and Ume plum wine
At Tosaya, which was founded in 1930, they freshly shave bonito flakes every day to deliver a flavorful bonito flavor to customers. Here, I found "Tosaya Original Tosa Dashi" (1,000 yen for 20 bags) and "Red Plum Wine" made by Kishu Uguisuya (800 yen). I was surprised that such high quality dashi broth packs are sold at 1,000 yen for 20 bags!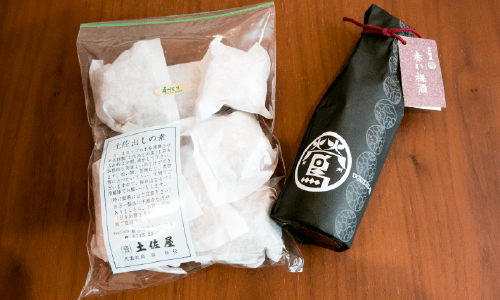 <DATA>
・Tosaya
Address: 1-2-8 Nakano-cho, Shingu-shi, Wakayama
Phone: 0735-22-2252
Hours: 8:30 ~ 18: 30 (closed on Sundays and public holidays)
・Chopsticks and Tableware
"Minoya", located in the Nakano-cho Shotengai shopping district, is a shop dealing with dishes, with a large selection of Japanese-style tableware and miscellaneous kitchen gadgets with a nostalgic Showa look. Here, I found pretty "chopsticks" and a "set of rice bowls". I recommend the store for those looking for souvenirs for people from other countries because here you can buy old-fashioned Japanese tableware at about 1,000 to 2,000 yen per item.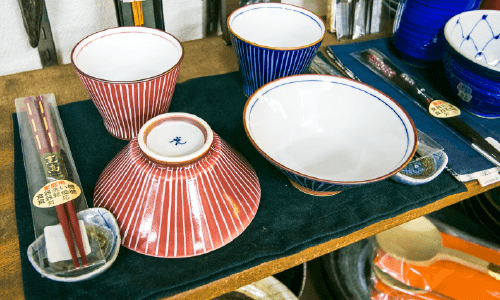 <DATA>
・Minoya
Address: 2-2-1 Nakano-cho, Shingu City, Wakayama
Phone: 0735-21-1124
Hours: 10: 00 - 17: 00 (Closed on Tuesdays)
・ Kumano Bussan Kamikura Main Store
If you are looking for souvenirs for marine products, Kumano Bussan Kamikura Main Store is the place to shop. You can purchase a souvenir that allows you to enjoy the taste different from a raw fish, such as dried sharks and dried whole Pacific saury. Even those who do not care for fish can find something for themselves here, including dried Kishu Ume plums, T-shirts with Kumano motif, and "Kumano bancha green tea" named after the Kumano Kodo routes.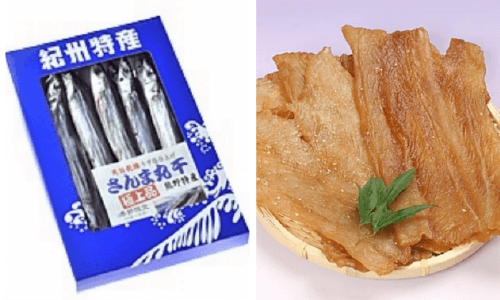 "Kumano bancha green tea", made from tea leaves cultivated carefully in the mountains of Kumano Main Shrine is sold at 630 yen.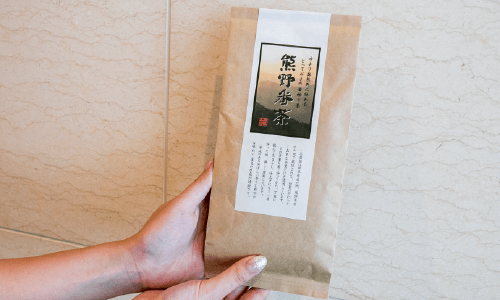 <DATA>
・Kumano Bussan Kamikura Main Store
Address: 2-8-11 Kamikura, Shingu City, Wakayama 2-8-11
Phone: 0735-22-0174
Hours: 9: 00-19: 00 (Closed on Wednesdays; or the following Thursday if it falls on a national holiday)
・Amanogawa (Japanese sweets)
"Matsubaya" is a still-yet-to-be-discovered Japanese confectionery shop in Shingu City. There is no shop sign outside the shop, and only you can see from outside is a wooden plate hanged on the window frame that reads "Amanogawa". I think you can enjoy a new crispy texture from this treat that looks like adzuki beans put together in a bar with agar. The shop closes when they are sold out, so if you really want to try this treat in your trip, you should go to the store in the morning!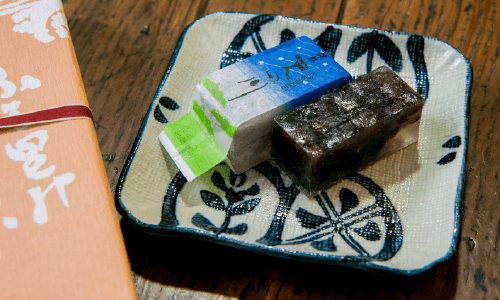 ・Nankaido Eclair
Packed with mocha-flavored cream made with heavy cream and custard, the soft crust is coated with high quality chocolate. Take a short break with this elegant sweetness that costs only 190 yen per piece.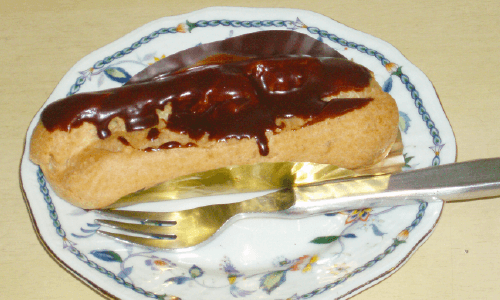 <DATA>
・Nankaido Pastry Store
Address: 3-2-1 Ohashidori, Shingu-shi, Wakayama
Phone: 0735-22-2920
9 Summary of the Food and Activities in Kumano
So, what did you think about the food and activities in Shingu City and its surrounding area I introduced? Besides the gourmet food I introduced, there are also "Tendai Uyaku jelly" and "Ume plum ice cream". Eat, play, and buy – it may sound like a common way of enjoying a sightseeing trip, but its quality is guaranteed here in Shingu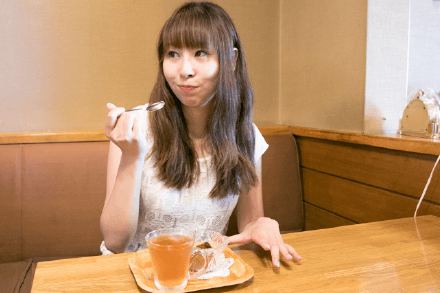 If you get tired from riding a bike, stop by the café "Carrot" and take a break with Tendai Uyaku jelly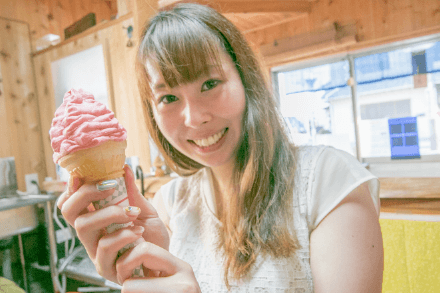 At Kakinoate, I had "Ume plum ice cream". It is loaded with a lot of flesh of the Ume plum, which is produced in Kishu. It was so good I want to have it again.
(The End)