Watermelon ice is a local cuisine in Shingu ??
Watermelon ice, which has been loved by the locals, is the summer tradition of Shingu. Watermelon ice that can be tasted only in Kumano area from Shingu to Mie. It is a classic shaved ice in the local area. Its taste is not watermelon, it is flavor of melon, lemon and strawberry.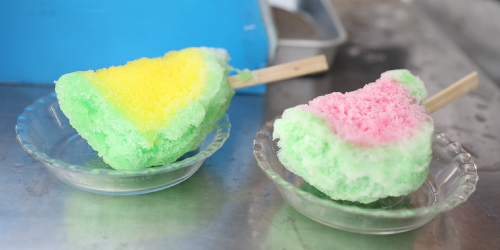 Experience fancy "Kakigori" at Shingu's most popular shop.
Naka Kori-ten is an ice shop that you can enjoy shaved ice through the whole year. The shop used good quality "pure ice" made by slowly freezing the famous water of Koza-gawa River over 72 hours. It is a truly delicious shaved ice specialty shop selected for the Nippon Keizai Shimbun Newspaper ranking number 9, so not only tourists, but also local students visit every day. Please try the "Watermelon Ice" that looks like a watermelon, which is the most famous item of the shop.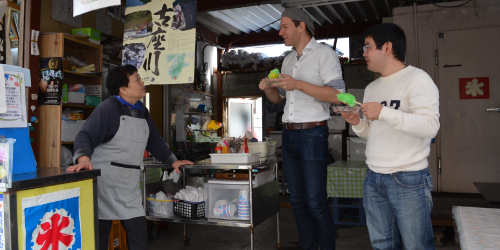 Naka Kori-ten that you can taste the shaved ice "watermelon" is in a narrow alley heading from Kumano Hayatama Taisha Grand Shrine to Kamikura-Jinja Shrine. It is a cute retro store.
Inquiries;
Name : Naka Kori-ten
Add: Shingu551-12, Shingu City  [GoogleMap]
Tel : 0735-21-5300
Open : 8:00-20:00
Close : open 7 days a week
Parking : available